5 December 2016
Asbestos can lurk in vintage decorations
Many people are aware of the dangers of asbestos, the only known cause of mesothelioma cancer. However, what many may not realise is that every year they could be exposing themselves and their families to asbestos by putting up the Christmas decorations.
Here's our guide to understanding more about the risk associated with Christmas decorations:
Decorations stored in attics and loft spaces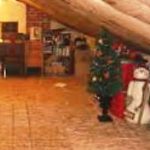 Some homes may contain asbestos in the attic or loft space. This may be in the form of various products including insulating board, cement, roof tiles, roof tile debris or less commonly as insulation material and hence anything stored here could also become contaminated with asbestos. It is important to get any suspect material checked professionally and until this is done it may be wise to store any decorations or seasonal items elsewhere.
Fireproof snow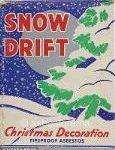 Up until the 1940's asbestos was used to produce 'fake snow'. This is best remembered from the famous 'Wizard of Oz' film, when Glenda the Good Witch conjures up a magical snow storm to wake Dorothy from her slumber in the poppy fields near Emerald City.
Many people will have used fake snow products with names such as Pure White, White Magic and Snow Drift. People were even advised to use asbestos instead of cotton wool to decorate their trees, since asbestos was less flammable and allegedly looked better. It may have looked nice, but the long-lasting harmful effects are undoubtedly still affecting people today.
Vintage decorations
Asbestos was also used to decorate Christmas baubles and wreaths in the form of 'frost' which clung to the surface of the decoration, as opposed to the fluffier effects of fake snow.
While much of the fake snow may have stopped being used in the 1940's, vintage baubles and wreaths have longer lives.
Many people may have inherited decorations from their Grandparents or purchased from countries where asbestos is still used and it is possible that a large number of decorations with asbestos 'frost' on them are still being used.
Asbestos was also commonly used in protective materials to help prevent fire and heat damage. Decorative products such as tablecloths, mats and skirts for Christmas trees frequently contained asbestos. Advertisements in early 20th century magazines marketed asbestos-containing products such as ironing boards, table cloths and oven gloves as 'sensible presents' to give home makers at Christmas.
Putting up the Decorations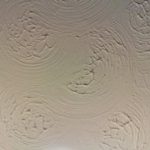 Many homes in the UK will contain textured coatings, as a coating on ceilings and walls. Many people call this type of coating 'Artex' which is in fact a trade name. Some textured coatings can contain chrysotile asbestos but mainly if applied prior to 1999, when the use of chrysotile was prohibited in the UK. Tests should be carried out on any suspect textured coating to confirm whether asbestos is present or not.   The best advice would be to avoid pinning anything to or disturbing textured coatings in houses built prior to 2000, just in case they do contain asbestos.
Avoid decorating with asbestos this Christmas
If you suspect that your decorations may contain asbestos, or that asbestos is in your attic, walls or ceiling here are some practical ways to deal with it:
Avoid storing decorations and any other items in your home where asbestos might be present
Responsibly dispose of old decorations that contain asbestos
Have textured walls and ceilings and any other suspect material tested for the presence of asbestos by a UKAS accredited organisation
If your home does contain asbestos which needs to be removed, contact an Asbestos Consultant or licensed professional for advice and safe removal
Follow these guidelines to avoid exposing yourself to asbestos and stay safe this Christmas.