UKATA Asbestos Non-Licensed Waste and Civic Amenity Site Personnel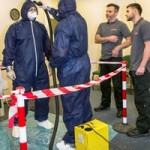 (Limited to 6 delegates)
Introduction
The course offers an introduction to non-licensed work with asbestos with a bespoke element for Waste and Civic Amenity Personnel. It gives an overview of health effects, details of protective equipment, legislation and safe working practices. It includes a multiple choice exam.
This course will assist delegates to meet their legal obligations when undertaking Non-Licensed or Notifiable Non-Licensed Asbestos work on Waste and Civic Amenity Sites where asbestos wastes are knowingly or inadvertently received.
Who should attend?
Asbestos training should be given to any persons who may encounter asbestos containing materials during their day to day work activities whilst working or controlling work on licensed Waste or Civic Amenity sites.
In particular, it should be given to the engineers who are responsible for the design and operation of the waste management site, utilities installation and maintenance engineers, waste management and civic amenity site operatives, machine drivers and maintenance engineers and operatives, fencing installation contractors, those employed to undertake engineering or environmental measurements on site, including the taking of leachate samples for analysis or any other persons likely to come into contact with or inadvertently disturb asbestos containing materials as defined in CAR 2012 during their work on such sites.
Aim:
To provide delegates with the theoretical and practical knowledge to undertake non-licensed work with ACM's
Course content:
Asbestos Awareness for Civic Amenity Site Site Operatives (if not previously given)
Asbestos in waste materials
Distinction between LW, NLW and NNLW
Explanation of the different types of works that can be undertaken and classified as NLW
Design of waste sites to segregate asbestos waste
Advice to members of the public
Reasons for rejecting a load
Hazardous Waste (Amendment) Regulations 2009
Risk Assessments and plans of work (EM0)
Accidental disturbance / Emergency Procedures (EM1)
Information, Instruction and Training (EM2)
Use of Class H Vacuum (EM 4)
Use of Wetting control measures (EM 5)
Personal protective equipment (EM 6)
Cleaning (EM 7)
Decontamination (EM 8)
Waste (EM 9)
Course duration:
Full course (including asbestos awareness) = 1.5 days
Course where asbestos awareness  for Awareness for Civic Amenity Site Site Operatives undertaken previously = 1 day
Cost:
1.5 days = £1,350.00 + VAT in-house for up to 6 delegates
1 day = £795.00 + VAT in-house for up to 6 delegates
(plus any disbursements)
Course fees include UKATA Registration, Certificate. ID badges are available at an additional charge.
This course is available in-house at a location of your choice or at our Cardiff Training Centre.
Certification:
Upon successful completion of the course all delegates will receive a UKATA Asbestos Non-Licensed Waste and Civic Amenity Site Certificate.
This course is CPD registered and the respective number of hours will appear on your certificate.
Download the one day syllabus
Download the in house course booking form
Here's what our clients say:
 "I realised during the training how important it is to consider asbestos during my daily work routine."

"Clear, precise and informative, I'll be even more mindful and aware in future"

"Topic was broken down into easy to understand sections from friable to less friable materials"

"Very well presented on a difficult topic"

" First class, couldn't be better"
To speak to one of our Asbestos Training experts, call us on 02920 535090 or complete the contact form.