Project Management
Project Management of Asbestos Removal/Remediation Works:  Taking away the worry
If following an asbestos survey, the recommendation is removal or encapsulation of any asbestos containing materials (ACM's), Enquin Environmental can provide a full project management service to Clients.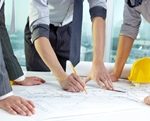 The project management service includes:
Production of specification
Tendering of work
Contractor vetting procedure
Tender submission evaluation
Liaison with Client, Designers, Principal Contractors, Principal Designer and Sub-Contractors
On-site management during works
Liaison with the Health and Safety Executive
All removal and encapsulation work is managed to minimise disruption to the building user and ensure client confidence is maintained throughout.
To speak to one of our asbestos management experts, call us on 02920 535090 or complete the contact form.